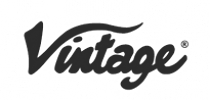 Already the word "vintage" gets all fans of well-made and high-quality instruments excited. The British company of Vintage decided to make it its business name and the ever growing popularity of these instruments suggests that their instruments have to be taken into account.
The company was founded in the mid 1960's, originally only as a sales company. However, in the end, in 1985, it introduced its first guitars and bass guitars with the Vintage logo on their heads. This quickly expanding firm incorporates several brands, such as Encore, FretKing, Laka or Kinsman. Apart from electric guitars and bass guitars, it also makes acoustic guitars and ukuleles. Some of its very popular products include instruments from the Vintage Icon series. Apart from the traditionally used good materials and great workmanship, they offer an added value in the form of "relic" modifications, i.e. "aged looking" instruments.
Vintage instruments are sold for affordable prices, while preserving a high quality of the used timber, hardware, pickups and electronics, which come almost exclusively from Wilkinson. This cooperation works just perfectly. And the names like Thomas Blug or bass guitar legend Matt Bissonette demonstrate that these instruments are not just a "marketing success".