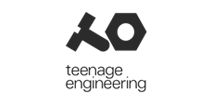 It is a Swedish company that specializes in the development and production of synthesizers. The company was founded in Stockholm in 2007 by Jesper Kouthoofd, Jens Rudberg and David Eriksson. 
Already its first OP-1 synthesizer, which was introduced in 2010, indicated that Teenage Engineering is definitely not a dull company with traditional products. OP-1 became a huge hit and only its relatively high price prevented it from entering the mainstream. 
Innovation, untraditional solutions, courage, playfulness, they are all attributes that characterize Teenage Engineering. Moreover, its developers were not afraid to go even further and, in cooperation with the Swedish clothing brand Cheap Monday, they have developed and introduced to the market a series of synthesizers called Pocket Operator. These mini synthesizers with a calculator-like design became also a big hit and they open Teenage Engineering the door to the low-budget spheres.
Apart from synthesizers, samplers and sequencers, the Teenage Engineering portfolio also includes the active OD-11 speaker, which presents, again, several "best ofs", such as functionality or original design.