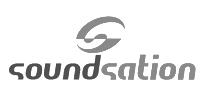 This Italian manufacturer believes that evert man should have the opportunity to enjoy his or her music passion. That is why it strives to make simple, easily controllable but effective and affordable instruments.
The Soundstation portfolio includes everything you can think of when it comes to musical instruments and accessories. The product portfolio includes classical as well as modern musical instruments, professional podium and studio technologies and, of course, all accessories. 
Soundstation has been a player on the music market since 2005. It is a subsidiary of the Italian Frenexport Group.