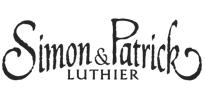 The famous brand Simon & Patrick belongs to the family of the Godin Guitars brands. These instruments are handmade in Canada, mostly from selected local tone woods. These facts mean that the guitars are built to the highest quality standards and have a very attractive look.  
The guitars of this brand are produced in the small village of LaPatrie in Quebec, Canada, where they are built by an enthusiastic team of guitar-builders who share love and passion for this craft. Building guitars does not only mean a job to them, but it is also passion and joy, which obviously has a positive impact on the quality of instruments.
The Simon & Patrick guitars are of course available in all common types, e.g. Dreadnought, Folk, Parlor, and Mini jumbo. The guitars come both with and without cutaway and they are fitted with B-Band or Fishman electronics. You can find your dream guitar among seven model series and really everybody can choose – from guitars with rich inlay (e.g. Showcase series) to guitars with truly "natural" design (e.g. Trek series).
If you decide for any Simon & Patrick guitar, you always get an above-standard instrument with delicate and balanced sound.