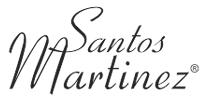 Santos Martinez classical guitars are designed for both beginners and advanced guitar players who do not want to or cannot invest a large sum of money in their instrument and still would like to own an instrument which sounds and looks great. 
The brand Santos Martinez is based on the best possible manufacturing and playability of the guitar in the lowest price ranges. However, they have a lot to offer even for advanced or professional players, e.g the flagship – signature model SM2000 Santos Martinez by the guitarist Raymond Burley, made of solid woods, with perfectly balanced sound and manufacturing at the level of custom made instruments.
In the offer of the company you can find both purely acoustic guitars and guitars equipped with Fishman pickups and electronics. The Santos Martinez guitars are the proof that affordable guitars can be much more than just wall decorations and also that high-end guitars do not necessarily cost a lot of money.