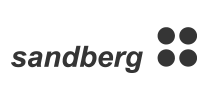 The German company of Sandberg, which produces electric guitars and bass guitars, was founded in 1986. Initially, the company was making only customized bass guitars. Nevertheless, the quality of these instruments spread fast. A small workshop in Ehmen became too small soon and, moreover, the company was also swept by requests for guitars.
Today, the Sandberg brand is famous not only due to the renowned German precise instrument production, but especially to several useful innovations and improvements in comparison with other, similar instruments. They are appreciated by all musicians who expect from their instruments not only excellent sound but also technical characteristics.
These days, Sandberg has many enthusiastic fans around the world, including some real legends of the music world, such as Janick Gers, guitarist of Iron Maiden, or Markus Grosskopf, bass guitarist of Helloween. At our areas, Sandberg instruments are used by, for example, bass guitarists Martin Ivan or Juraj Topor.
The most popular line of this brand, be it a bass guitar of guitar, is the California line. Nevertheless, other Sandberg lines deserve attention as well. They will surprise you not only by imaginative designs and excellent workmanship, but also by affordable prices.