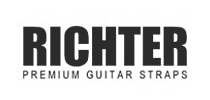 The German Richter Company has been making guitar straps since 2008, however, it has had a good reputation in the leather-making industry for several years and is one of the most experienced firms on the market. Richter guitar straps can be found around the necks of musicians such as Korn, Guns N' Roses, Blink-182, Slipknot, Rammstein or Alice Cooper.
Each guitar strap is made from premium leather and the special stitching or padding makes these straps not only very durable, but also very comfortable.
The straps are made from high-quality materials using traditional procedures, from leather of clearly traceable origin and with emphasis on environmental conservation. The process of handmaking means that each item is absolutely unique.