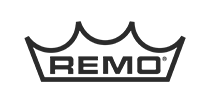 The American company of Remo was founded in the city of Santa Clarita in sunny California in 1957. It entered the market with a revolutionary technical novelty, which has replaced the intially used natural material - leather. It was a plastic drumhead, which had not only a longer lifespan, but it was also easier to keep it tuned. Since then the company has become one of the largest manufacturers of drumheads and percussion skins, but also for skins for, for example, banjos.
Remo drumheads can be found on drum sets of the leading manufacturers, such as Pearl, Sonor, Mapex, DW, Yamaha, etc. Apart from that, the company also manufactures its own drum sets liked by many top drum players, for example, Stewart Copeland or Steve Gadd.
Successful model lines, such as single-layer and two-layer Ambassador, Emperor, Pinstripe or Powerstroke drumheads, have become a real legend, used in studios as well as at concerts by famous drummers, such are Neil Peart, Peter Erskine, Dave Weckl or the always smiling Nicko McBrain.