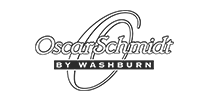 The company was named after Oscar and Otto Schmidt. It was founded in New Jersey in the USA already in 1871. In 1911, the company transformed into a joint-stock company, which experienced a boom in the beginning of the 1920's and which quickly opened additional five factories in various cities. Today, Oscar Schmidt forms a part of the U.S. Music Corporation and continues to produce high-quality instruments with affordable price for the wide public.
The success of Oscar Schmidt in its beginnings was especially based on persistent door-to-door sale and progressive "marketing", which was using regular, local events and which utilized specifically modified models of the instruments. Their salesmen kept thorough records on their customers, thus being able to offer them exactly the product they needed.
Thanks to such persistent salesmen, Oscar Schmidt instruments would get even to the furthest American corners and their local stores. They were used by bluesmen as well as for family productions and simple shows. That is also how the instrument called autoharp came to life - it is a specific instrument with buttons, which create chords. Pretty much anybody can very quickly learn how to play it.
Thanks to the success of the company, its business strategy and its emphasis on the quality and sound, you can play Oscar Schmidt instruments to this day. Whichever instrument you choose, be it an acoustic guitar, electric guitar, ukulele or autoharp, it will not disappoint you - the same way they did not disappoint several generations of musicians before you.