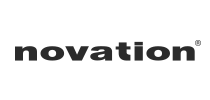 Digital Music Systems Ltd. is a British manufacturer of musical instruments that has been providing amateur and professional musicians around the world with its excellent MIDI controllers, analogue synthesisers, DJ controllers and other accessories since 1992. To a certain extant, the company is responsible for the renewed popularity of analogue synthesisers - Novation was one of the few companies that had introduced these products on the market in the 1990's.
In 1992 , the company introduced itself by the MM10 keyboard controller for the Yamaha QY10 music station. Shortly afterwards, in 1993, the Bass Station analogue synthetiser, considered a classic today, was developed. There is no doubt that it is a very successful instrument. Produced even today, it is used by famous bands such as William Orbit, Biosphere, Massive Attack, Orbital, Apollo 440, Nine Inch Nails, Radiohead, Jimi Tenor, Laurent Garnier, ATB, Sneaker Pimps, Out of Logic or Underworld – that is a pretty good list.
Towards the end of the 1990's, the company was very productive. It came out with the exceptional DrumStation Groovebox, shortly followed by he revolutionary Supernova and Nova synthesizers, which set brand new standards in the are of polyphonic sound synthesis – one of those who could swear by it is Jean-Michel Jarre himself.
After 2000, with the development of digital platforms and powerful DAW programs, Novation reinstated its production of MIDI controllers and has been gradually introducing products such as X-Station, Remote, Launchpad or Launchkey, which are becoming a core of many house studios as well as live set-ups. At the same time, the company keeps coming out with new models of the Nova as well as Bass Station synthesizers. We can certainly expect more great things from this company in the future.