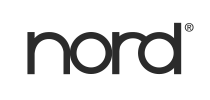 Nord Keyboards is a business brand of the Swedish company of Clavia DMI AB, with its registered seat in Stockholm. The company was founded in 1983 by Hans Nordelius and Mikael Carlsson. Its portfolio includes professional digital stage pianos, synthesisers and digital organs.
Despite the fact that Clavia, respectively Nord, is known mainly for high-class digital pianos and organs these days, their history began by the production of the first digital drum for commercial use. Its name was Digital Percussion Plate 1. Its improved version was introduced on the market in 1984 under the brand ddrum. Clavia is not the owner of the brand any more but it did introduce its typical reddish color of the Nord products.
One year later, Clavia came out with the first virtual analogue synthesiser Nord Lead. This product became popular very quickly. You can find its successors in the Nord portfolio even today. Apart fro the above mentioned synthesiser, the company has also produced the modular Nord Modular synthesiser, followed by Nord Electro, digital organs that are based on the legendary "Hammond organ" and other instruments that are considered to be a standard in their respective fields these days.
Considering our times, it is a pleasant surprise that the Nord products are still made manually in its Swedish seat, which also houses its R&D department where new instruments and related software are still being developed. Its products can be found around the world in the hands of professional musicians and well as demanding amateurs.