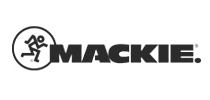 The beginnings of Mackie are bound to the desire of a Seattle musician to deal with low-quality mixing tables, which were not, from the technical perspective, able to keep up with the dynamically developing American rock scene. Towards the end of the 1960's, Greg Mackie thus initially founded Technical Audio Products (TAPCO) and later on AudioControl. Based on their success, Mackie was born in 1988.
Greg Mackie and the company beginning were very modest – the first mixing tables we built in his apartment. The desire to make a cheap but acoustically high-quality compact mixing table resulted in the LM-1602 model, which became a sales hit immediately. Mackie found a market niche. His mixing tables would not end up only with professionals but especially in new home studios, rehearsal rooms, schools, churches and other public institutions.
Other successes followed and when Mackie sold its hundred thousandth product, it celebrated it by relocating to a plant that was more than eight thousand square meters big. It equipped it with the latest technologies, multiplied its production and became one of the main players on the professional audio market.
The company portfolio still includes several mixing tables for professional as well as semiprofessional use. They are accompanied by speakers, mobile PA systems, studio monitoring, MIDI controllers for DAW recording and numerous accessories. The company philosophy remains the same - offering professional audio equipment for a price that is affordable even for regular people.