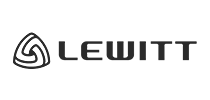 The company did not introduce its microphone prototype until 2010. However, the fame of the company, founded by the Austrian Roman Perschon, has been spreading fast. Each Lewitt microphone produces crystal clear sound and very natural recording.
The company was founded because of the Perschon's desire to have his own business. Afer years he had spent in the position of a project manager of a leading European microphone manufacturer, he quit and began travelling the world, trying to persuade other professionals to work with him on the dreamt-of project.
He and his team composed of people from the entire world eventually created a small product line, which was introduced at the NAMM and Prolight+Sound Fairs in Frankfurt in 2010. Soon enough, the products began to reach the hands of professionals around the world, and since they were all very satisfied, the company has shortly built a very good reputation.
Lewitt products can be currently purchased in Europe, the United States and is South America. The product portfolio includes large-membrane condensator and lamp microphones designed especially for studios, dynamic microphones suitable for live music, vocals and percussions, wireless sets or USB microphones suitable for making podcasts or videos.