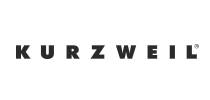 Kurzweil Music Systems was founded by Ray Kurzweil, well-known innovator, author of several books and expert in the field of speech to text transcription, in 1982. Steve Wonder is behind the inception of the company. He complained to Kurzweil that electronic instruments cannot correctly reproduce the sound of acoustic instruments and he also did not like their limited possibilities. Based on this debate, the legendary K250 synthesizer was developed and, at the same time, one of the most successful companies in the field of music business came to life.
K250 was the first synthesizer that was using sampled sounds of real instruments, which were saved in its ROM memory, thus eliminating the need of a disk. It was made in 1983 directly for the Stevie Wonder studio and it is, even today, still considered the first electronic instrument that is able to accurately reproduce the sound of a grand piano.
Other successful models included instruments from the K2000 series with the appreciated V.A.S.T. sound synthesis technology. (Variable Architecture Synthesis Technology). In the past, they were considered the best samplers and synthetisers around and that is why they found their way to many top studios around the world.
In the mid 1990's, Kurzweil expanded its production by MIDI and performance controllers of the PC series and SP stage pianos, which, together with the ARTIS and FORTE flagship series form the company portfolio even today. Apart from that, the company also offers digital pianos and studio equipment. Its products are still considered one of the best products in the field.