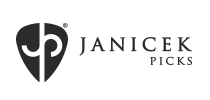 A family company run by father and son Jan and Jan Janíček has been developing and producing anti-slip picks for more than two decades. The company's successful Brain model has been highly successful both in the Czech Republic and abroad. The pick caught the competition's attention so far as to start producing their own copies of the Brain. Naturally, without the necessary know-how and with varying degrees of success.
This has led the company to develop a new generation of picks with even better properties in 2012. In addition, the new models were of course patent-protected world-wide. The new picks are offered in the traditional STANDARD shape and in the new JAZZ and BALKAN shapes, all under the D-GriP™ brand.
The picks are available in various sizes and thicknesses and are sure to satisfy a wide spectrum of musicians with varying feel, playing demands and musical direction. With D-GriP™ picks, moist and sweaty fingers are no longer a bothersome complication. Their unique anti-slip surface ensures that the pick will not slip nor twist.