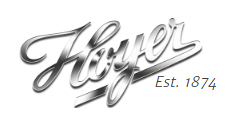 The history of Hoyer guitars is very long, dating back to the 19th century. Even more surprising can be the fact that the luthier's workshop was established in the small town of Luby, which is located not far from Cheb. Franz Hoyer, the company's founder and owner, quickly became an important producer of musical instruments already during the times of the Austro-Hungarian Empire.
Today, the Hoyer brand is owned by the prominent American manufacturer Ritter, who is ready to launch global sales of Hoyer instruments. In Hoyer instruments, the emphasis is put on elegance, minimalism and maximum functionality of the instruments.
Apart from classical and western guitars, Hoyer's portfolio also includes electric guitars and ukuleles.