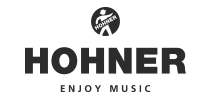 There are not many companies that can boost as long and rich of a history as the German brand of Hohner. Harmonicas, accordions and guitars of the highest quality have been produced here since 1857.
The main articles made in the Hohner factories are harmonicas and accordions. Harmonicas are used today basically in all musical styles. That is why Hohner offers a really wide range of these distinctive instruments. Harmonicas are made using the latest methods, but also with a great respect to traditions. Their popularity and indisputable quality is also demonstrated by the fact that the Hohner harmonicas are used by many artists worldwide, including the legendary harmonica player Charlie McCoy.
In the world of music instruments, Hohner accordions belong among the best. The company offers a wide range of types and models. Moreover, the company also offers other instruments, such as acoustic guitars, classical guitars or the renowned "headless" electric guitars and bass guitars. You may know them from the hands of, for example, Mark Knopfler or, from the domestic scene, Jožo Ráž, Vilém Čok or Bruno Kovařík from Hypnos.
Hohner also offers good quality bluegrass instruments, such as banjos or mandolins.