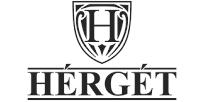 The Hérgét brand belongs to the legendary manufacturer of cases and shells for guitars and the Ritter bass guitar. The company got its name after the grandfather of Martin Ritter, Wilhelm Hérgét, who himself was a very good musician and a pioneer in the area of musical instrument cases.
The Hérgét guitar cases and shells are available in 5 different models, in many colors and, in the case of the Vital and Chic model lines, you can also choose from two different upholstering thicknesses. The Academy, Noble and Premier model lines offer upholstering with a thickness of 20 - 40 mm, large number of practical pockets, massive zippers and luxury, upholstered shoulder straps.
The cases are available for classical guitars, acoustic guitars of the dreadnought type, etc., electric guitars and bass guitars, but also for banjos, ukuleles or various, atypically shaped electric guitars and bass guitars.
The Hérgét guitars have been modified based on the latest trends and need of the musicians, while preserving certain retro features. Your instruments will be maximally safe in them.