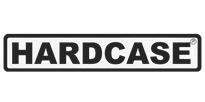 This British company was established in 1992 and its products have been and still are produced directly in England. The company offers a wide selection of hard cases for individual drums, drum sets, cymbals, accessories, transportation solutions for marching bands as well as suitcases for various ethnic percussions or steel drums.
Hardcase is focused not only on the high quality of its products, but also on user comfort and style. Its cases are available in the traditional black color with yellow elements and also in ten other colors - red, orange, yellow, pink, white, granite, and light and dark blue and green. The cases will thus satisfy even the wildest design ideas of whimsical musicians.
Apart from the color, you can also pick upholstering type directly on the company website. The company portfolio of more than hundred and fifty products is thus very variable and will satisfy even the most demanding requirements. Moreover, Hardcase is convinced about the quality of its products so much, that is supplies all of its suitcases with a life-time warranty.
Hardcase cases are currently distributed on thirty five world markets and the company is one of the largest and, most of all, most respected world producers of plastic cases. Nevertheless, the most important factor is represented by the thousands of professional as well as amateur drummers, who swear by these cases.