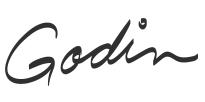 Robert Godin started out with the modifications of electric guitars in the sixties in Quebec, Canada, and soon he became so famous that the guitar enthusiasts from across Canada came to see him. The following is an incredible story. In 1972, Robert Godin went on a hunting trip, where he accidentally came across the Norman company. They focused on a strange combination of products – window frames and bad guitars. Eventually, Godin took over the factory and set up his own business. Later he joked: "Everybody returns from the hunt with a deer, I have brought a whole factory."
Nowadays, the Godin company makes instruments under five other brands – Seagull, Simon & Patrick, Norman, LaPatrie and Art & Lutherie. More than 200 000 guitars and other instruments are produced annually there. Yet, Godin guitars create an impression of custom pieces that were made with love somewhere in a quiet, sunken workshop.
Robert Godin, who still manages the company, has never ceased to be an innovator. Therefore, the Godin instruments constantly evolve and adapt to the needs of a modern guitarist. From all unique concepts of the company we should mention the Multiac series with combined and very flexible pick-up technology or instruments with MIDI technology.
The company offers electric guitars, acoustic guitars, classical guitars, bass guitars, ukuleles, cases and other string instruments. Even after years, the basic components of the guitars are made in the original factory and each neck is fretted, sanded and finished manually. Godin states that in the company there is more manual work than in a Custom Shop.