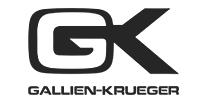 Gallien-Krueger has been on the market since 1968. Back then Bob Gallien, a young engineer and current President of the company, took a prototype of his amplifier to a guitar store. The next day Carlos Santana bought it and took it to the legendary Woodstock festival. The rest is history.
The company was originally called GMT and its first models were guitar amps 226A and 226B, which attracted the guitar world of the seventies mainly by its unconventional structure - their sound was not formed by vacuum tubes but by transistors.
Bob Gallien made the first bass amp in 1983. The Model 800RB charmed bassists with its dry, growling sound and perfect response. Bassists from all around the world have been looking for such a specific sound up till now. If you want to hear it, listen to the record by Flea from the Red Hot Chili Peppers.
Since the early nineties, the company Galiien Krueger has been devoted exclusively to the manufacture of bass amps, cabinets and combos. In three series there are iconic transistor amplifiers MB and RB and newly Fusion 550 – an amplifier equipped with tubes.