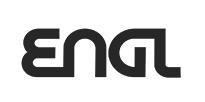 This German company, which produces all-tube guitar apparatuses and speaker boxes, is, in comparison with other companies, a relative newcomer in the field of the production of music equipment - it was not founded until 1987. Nevertheless, since then, it has managed to gain a very good reputation among professionals and amateurs alike and to place itself among the leading world manufacturers.
The registered seat as well as production facility of ENGL have been in Germany ever since its foundation, particularly by the eastern Bavarian border. All products, from combos, amplifiers, speaker boxes to rack accessories, are assembled manually here. All parts pass through a thorough output inspection and individual finished products are, upon their completion, subjected to strict quality tests not only from the mechanical, but also sound perspective.
Even though the ENGL instruments have been mainly designed for relatively hard music styles, pretty much any guitarist can find its sound among them. Apart from a significant distortion, the ENGL apparatuses also offer clear sound and all tones between these two poles of the sound pallet.
Apart from an excellent sound, the ENGL apparatuses have also become famous for their reliability and long lifespan. In short, these products will just never let you down. This is clear to, for example, Ritchie Blackmore, Steve Morse, Marty Friedman, Glenn Tipton and many other professional players who would not substitute the German quality of the ENGL apparatuses for anything.