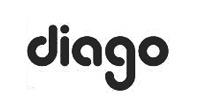 The british company of Diago was founded with the objective to satisfy the needs of musicians who are in need of high-quality, innovative and good looking guitar products that may be able to do only a single thing, but do it well.
The company portfolio mainly includes high-quality, practical and resilient pedal boards, in which your effects will feel very comfortable, power adapters, power stations and even high-quality connection cables. Moreover, you can adjust the cables yourself since they are sold in the form of a set (Patchfactory) that includes 3 m of the cable and ten angle jacks, from which you can easily make the cable you particularly need.
An if that is not enough, you can also purchase a miniature Diago 5 W amplifier, which is slightly bigger than a guitar box, which needs only a 9 V adapter for being powered and which can be comfortably placed into your pedal board or just on a speaker. Thanks to its resistant metal casing, you do not have to worry about it, and its sound will pleasantly surprise you.