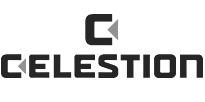 Speakers of the british company Celestion have become a real legend. Its beginnings date back to 1924, to the Hampton Wick quarter on the outskirts of London, where the first speaker was made already in 1925. Gradually, the company has become one of the largest and most famous speaker manufacturers in the world.
Celestion speakers are sometimes, not surprisingly, referred to as the "voice of rock n' roll". We can find them in guitar and bass guitar apparatuses of the most famous players, including the guitar guru Jimi Hendrix. However, the company does not produce only speakers for guitar and bass guitar amplifiers, but also for various audio technologies and sound systems.
A big part of the Celestion models have become classic among musicians. Celestion portfolio thus includes several time-proven models, such as Celestion Blue, Greenback or Vintage 30.
Nevertheless, the company does not rest on laurels and continues to come up with new models, such as Neo Creamback or the bass model Pulse, which may, in the future, also become classics. The quality of the Celestion speakers is demonstrated not only by a long list of players who use them, but also by the fact that some players, such as Eddie Van Halen or George Lynch, have their own signature models.