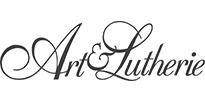 The Canadian manufacturer of guitars Art & Lutherie is a member of the Godin Group, similarly to Seagull, La Patrie or Norman, which is a guarantee of precise processing, high-quality raw materials and a maximal possible share of manual work.
The Art & Lutherie plant is located in a small Canadian town of Princeville in the Québec province, from which the company also obtains 95% of the timber used for its production. Moreover, the company does not only focus on the quality of its products and on the profit, but also on an environmentally friendly logging, since it makes nearly all of its instruments from already fallen trees.
When it comes to materials, all Art & Lutherie guitars have their ribs and rear panels made of a three-layer, laminated wild cherry tree timber, necks made of silverleaf maple, palisander fingerboard and massive top panels made of cedar or spruce.
The company portfolio includes all basic models in six-string as well as twelve-string versions, from dreadnought guitars, guitars with a cut-out segments or folk type guitars, to very unique instruments, such as parlors. An option to select an instrument furnished with electronics, most commonly Godin Quantum I, is a matter of course. Nevertheless, there is one thing all Art & Lutherie guitars have in common - excellent quality for a surprisingly affordable price!