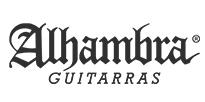 The Spanish company of Alhambra was founded in 1965. It utilizes traditional instrument-making procedures as well as modern technologies for its manual production of classical guitars. Moreover, the company puts a great emphasis on making its instrument production as environmentally friendly as possible.
The entire process of making a Spanish guitar starts with a careful selection of raw timber (cedar, spruce, palisander, ebony, cypress, etc.) directly at the location of its origin. The timber is subsequently left to dry naturally. The last stage of the drying process is controlled automatically. Individual guitar components are carefully tuned and manually set up. Thanks to unique serial numbers, the origin of every single instrument can be track down. The company puts a great emphasis on its output control and high-quality after-sale services
Alhambra portfolio includes classical and flamenco guitars as well as western guitars, signature models or lutes and bandurrias. Individual instruments are divided into series, which are designed for beginners, advance players or students and professionals.
Currently, you can find Alhambra guitars in the hands of amateur and professional players in forty countries worldwide. Some of the company players are César Rosas, Cem Duruöz, Josué Tacoronte, Mattias Ia Eklundh, Carlos Morgado, Eduardo Minozzi, Fareed Haque, Patxi Andión, Philippe Bertaud, Serenado Duo or Ricardo Cobo.