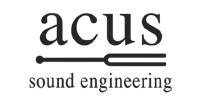 The company engaged in the production of amplifiers for acoustic instruments was founded forty years ago in the Italian town Recanati. The main idea of the company was to offer amps which amplify and faithfully transmit only natural, pure acoustic sound of the instrument without any distortion.
The production takes place exclusively in Italy and the company seeks to achieve not only the perfect sound but also the perfect design of their products. Cabinets, controls – everything must be in perfect harmony. As for the controls, the Acus company bets on maximum reliability and functionality combined with uncompromising sound quality.
One Forstrings is a very popular series produced by Acus. It offers combo amplifiers with connectivity options (depending on the model) up to three instruments and two microphones and it equipped with its own built-in effects. Thanks to their equipment One Forstrings amplifiers can serve as a mini PA system. Another popular series of combo amplifiers, One Forstreet has a little bit simpler equipment, but not lower quality. One Forstreet amps are designed mainly for street artists since it runs also on battery power and without difficulty it sufficiently amplifies e.g. two acoustic guitars and a microphone.
All the product series of Acus amplifiers are in constant evolution. The producer listens carefully to the users' views and comments, which then leads to further innovation and improvement of the already extremely high-quality appliances for acoustic instruments.