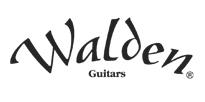 The Walden brand announced renewal of production in 2019. Jonathan Lee, an American guitar maker and designer, who co-founded the company in 1996, and Jaco Liao – both with experience in the Washburn Group, are behind this label.
The company's goal is to offer musicians acoustic and classic guitars, which have an attractive design, are made from high-quality wood and elements (neck reinforcement made from graphite and glass fibres, reduced height Low-Mass X ribbing, shoulder rest) normally seen in custom-ordered, hand-made instruments, rather than in series models. All this thanks to the combination of American know-how and Asian production, at an affordable price.
The current range offered by this brand includes acoustic guitars divided into three qualitative classes (Supernatura, Natura, Standard), classic guitars and unusual baritone acoustic guitar models with an offset soundhole and another port in the body sides.