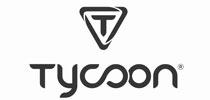 It has been 32 years this year since the Tycoon brand first appeared in the world of music instruments. The company, which mainly focuses on the production of manual drum sets and percussions, was found in Bangkok in Thailand in 1984 by enthusiastic musician Stephen Yu. It did not take long before the first successes to arrive.
Today, Tycoon is not only a business brand. It also has its own factory, which is not completely normal any more. Thanks to that, the company not only carefully monitors the quality of its products, but it can also respond faster and more dynamically to current demands, new trends and innovations. The objective of the company is to provide its customers not only with various drum instruments of the highest quality, but also to take care of its customers and musicians like they would be members of its own family.
The Tycoon portfolio includes a great range of popular cajons, out of which especially the 30th Anniversary Celebration and Legacy lines excel due to their premier selection of timber and also by very attractive sound and design. Moreover, the company also offers bongos, congos, timbales, djembes as well as traditional percussions, such as tambourine, cabasa, maracas or even triangle. Tycoon also offers less known percussions from around the world, such as pandeiro, tamborim, doumbek or darbuka.