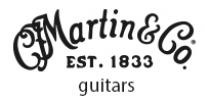 MARTIN
We are proud to offer these excellent instruments for distribution. Everyone wants an acoustic guitar bearing the C. F. Martin & Co. logo on its headstock. And anyone who says they don't, wants it twice as much. 
The American Martin Company has been making guitars for nearly two centuries and has given the world the popular Dreadnought for example. Martin guitars offer guaranteed quality and remain with you for your entire life.
Their sound is popular with artists such as Eric Clapton, John Frusciante, John Mayer, John Lennon, Kurt Cobain or Ed Sheeran. And you will probably also find it on many popular albums in your collection.
There is no need for further introduction of these beautiful acoustic instruments. It is the same as if we were offering to fill an hourglass in the desert.
Just come and try them.